For many years, the bay has protected travelers from storms.
It was discovered in 1660 and received its name in 1848, when Thomas Moore, a captain of the HMS Plover, left Plymouth to find the lost Franklin expedition. His ship narrowly escaped death in the waters of the Bering Sea because of a horrible storm. However, suddenly the sailors saw a quiet bay as if it had been sent by providence. Moore anchored the Plover in the safe harbor and stayed there for the whole winter.
From those times on, the bay became a popular site for wintering, rendezvous, repairing, and resting spot for whaling and merchant ships.
The bay is located in the Gulf of Anadyr. It is a small, separated part of the Bering Sea protected against storms and winds by protruding cliffs and steep shores (up to 800 m high).
Providence Bay is known for its unrivaled northern beauty. A traveler will see amazing fjords, high hills, and numerous bays:
Mark, Komsomolskaya, Slavyanka, Khed, and Vsadnik.
The most beautiful place on the Chukotka coastline is believed to be Senyavin Strait, while the most beautiful bay is Penkigney.
From May to October, there is little or no ice in the bay. It is often covered in fog.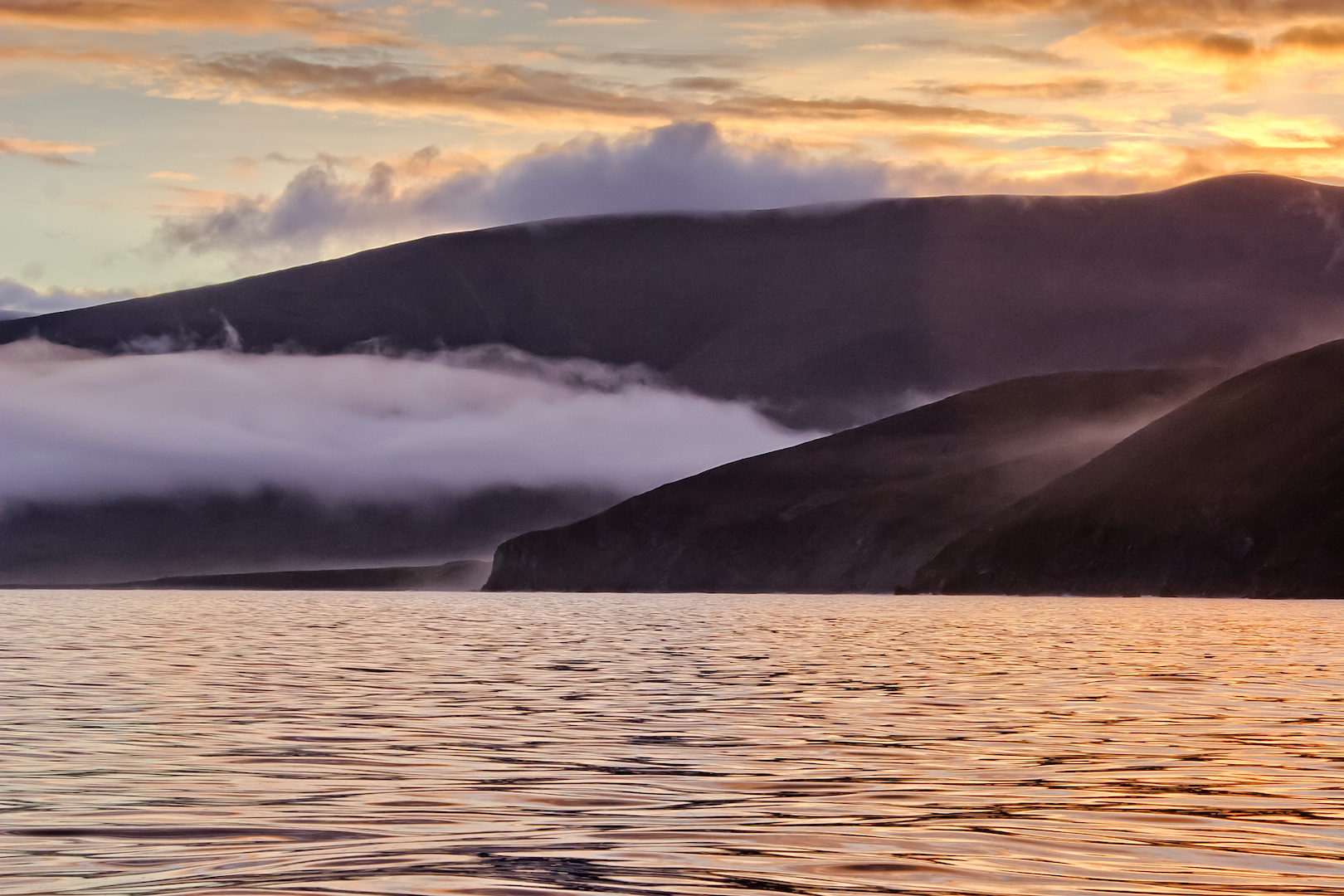 The village of Provideniya ("provideniye" is the Russian word for "providence") stretches along the northern shore in a narrow strip. Since there is little land for construction, the newer houses had to climb up the slope of Portovaya Mountain (630 m high).
From the top, you will have a spectacular view.
The bay is often visited by whales and orcas.
One of the main local attractions is the Museum of Beringia Heritage. There, you can learn about the life of the native peoples: Chukchi, Evenks, and Eskimo.
The collection began in 1985 when Moscow artists sent 100 paintings to the museum. Later, archaeologists and locals brought lots of ancient artifacts, mostly related to traditional crafts (harpoon points, fish and seal nets, different home utensils). That was the beginning of future exhibitions dedicated to the sea hunters, material and spiritual culture of Chukchi and Eskimo, and life of Russian pioneers.
Now, the museum holds more than 14,000 exhibits, including unique Evenk masks of different sizes, statuettes of humans, animals and fantastic creatures—in addition to the souvenirs available for purchase.
The village has a small temple of St. Innocent with an art workshop. Among the other attractions, there is an ice rink, a swimming pool, a cinema, and a skiing slope.
Tourists come to Providence Bay to fish (charrs, crabs, shrimps, different cod species, flatfish), bath in thermal springs, visit bird colonies, watch walruses, whales, seals, and, if they wish, accompany the local whalers on a hunt.
You can learn about Eskimo culture, everyday life and rites, take a hike or bike in summer or ski tour in winter, or enjoy mountain ski.
There are different ways to get to Providence Bay.
There is a small airport close to the village of Ureliki. It is located on the southern (opposite to Provideniya) shore and receives regular flights from Anadyr as well as charter flights from Nome, Alaska. Another option is to take a small plane from other Chukotka villages, such as Egvekinot, Lavreniya, Nunligran, Enmelen, Sireniki, etc. (check the actual flight schedule at the website of ChukotAvia http://chukotavia.com).
To get to the center of Providence Bay, you can catch a bus that goes through the village too. In addition to that, there is the Kapitan Sotnikov boat with a transit route from Anadyr to Lavrentiya.
To visit Providence Bay and Provideniya, you can join a tour offered by local tourism firms. During the trip, a traveler will admire the most gorgeous bays and fjords, bath in hot springs, learn about daily life of whalers in the national village of Novoye Chaplino, and visit the Whale Bone Alley — a mystery the scientists still can't crack. For some reason, the ancient people of Yttygran island created a weird sanctuary made of whale bones and skulls, only to abandon it later. As if by chance, Chukchi and Eskimo also forgot this religious spot for several centuries.
You can also visit Providence Bay as a part of a cruise from the U.S.
The route includes such points as Wrangel and Big Diomede Islands (Russia), and Nome, Saint Paul, Aleut chain, etc.